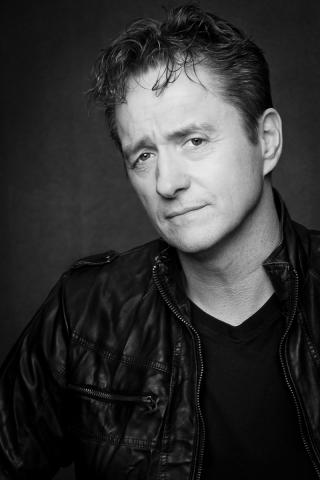 Gudmundur Jonsson has been a mainstay on the Icelandic music scene for more than three decades now. Mainly as a composer and guitarist and a founding member of one of the country´s most popular band, Sálin hans Jóns míns, who has released a huge batch of music and played countless gigs over their 30 year´s reign. 
Gudmundur is also writing and playing in other projects as well and they are as diverse as they are many. Most of them have an album or two under their belt and numerous live shows. The style range from the dense heavy metal stuff to smooth DJ jazz grooves, from soft country pop/rock to cinematic instrumental pieces - and everything in between. 
Gudmundur is also a capable producer, singer/lyricist, and keyboardist and has taught guitar- and songwriting lessons in workshops. He has collaborated with many of the Icelandic finest music establishment's, such as The Iceland Symphony Orchestra, The Reykjavik City Theater, The Reykjavik Brass Band and The Reykjavik Gospel Choir. He has released a trilogy of solo albums and written songs for documentary's, TV, movies, and musicals.
PORTFOLIO
1984. Kikk – Kikk (LP)
1988. Sálin hans Jóns míns – Syngjandi sveittir (LP)
1989. Sálin hans Jóns míns – Hvar er draumurinn? (LP)
1991. Sálin hans Jóns míns – Sálin hans Jóns míns (LP)
1992. Sálin hans Jóns míns – Garg (LP)
1992. Sálin hans Jóns míns – Garg, Documentary (VHS)
1992. Sálin hans Jóns míns – Þessi þungu högg (LP)
1992. Wallpaper: An Erotic Loves Story – Brosið Blíða, Song (FILM)
1992. Remote Control – Sódóma, Title Song (FILM)
1993. Behinde Schedule – Live Performance (FILM)
1993. Pelican - Pelican (LP)
1994. Documentary for The Icelandic National Broadcasting Service - Páll Stefánsson, Photographer (TV)
1994  Dos Pilas – Dos Pilas – My own Wings, Producer (LP)
1995. Sálin hans Jóns míns – Sól um nótt (LP)
1995. Zebra - Zebra (LP)
1998. Sálin hans Jóns míns – Gullna hliðið, The Best Of (LP)
1999. Sálin hans Jóns míns – 12. ágúst ´99, Live Album (LP)
1999. Sálin hans Jóns míns – 12. ágúst ´99, Concert Video (DVD)
2000. The Icelandic Dream – Hvar er draumurinn?, Song (FILM)
2000. Sálin hans Jóns míns – Annar máni (LP)
2001. Sálin hans Jóns míns – Logandi ljós (LP)
2002. A Man Like Me – Þú fullkomnar mig, Song (FILM)
2003. Sálin hans Jóns míns – Sól og Máni,  Musical for The Reykjavík City Theater (MUSICAL)
2003. Sálin hans Jóns míns – Sól og máni, The Best Of (LP)
2003. Sálin hans Jóns míns ásamt Sinfóníhljómsveit Íslands – Vatnið, Live Album (LP)
2003. Sálin hans Jóns míns ásamt Sinfóníhljómsveit Íslands – Vatnið, Concert Video (DVD)
2004. Gummi Jóns – Jaml (LP)
2005. Sálin hans Jóns míns – Undir þínum áhrifum (LP)
2006. Gummi Jóns – Japl (LP)
2006. Sálin hans Jóns míns ásamt Gospelkór Reykjavíkur – Lifandi í Laugardalshöll Live Album (LP)
2006. Sálin hans Jóns míns ásamt Gospelkór Reykjavíkur – Lifandi í Laugardalshöll, Concert Video (DVD)
2007. Gummi Jóns – Fuður (LP)
2008. Sálin hans Jóns míns – Arg (LP)
2008. Sálin hans Jóns míns – Vatnaskil 1988-2008, Box Set (LP, DVD)
2008. Sálin hans Jóns míns – Hér er draumurinn,  The Best Of, 20th Anniversary Collection (LP, DVD)
2008. Sálin hans Jóns míns – Hér er draumurinn,  Documentary, 20th Anniversary (FILM)
2008. Sjonni Brink – Sjonni Brink (LP)
2009. Jojo og götustrákarnir – Sál í stormi, Producer (LP)
2010. Sálin hans Jóns míns – Upp og niður stigann (LP)
2013. Sálin hans Jóns míns – Glamr (LP)
2013. Nykur – Nykur (LP)
2015. Vestanáttin – Vestanáttin (LP)
2015. Trúboðarnir – Trúboðarnir (LP)
2015. Sálin hans Jóns míns – Haltu fast í höndina á mér, (SINGLE)
2016. Nykur – Nykur II (LP)
2019. GG blús – Punch (LP)
n.b. there are also numerous songs written, recorded and performed with other artists